Welcome to OIT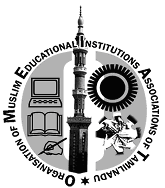 OMEIAT INSTITUTE TRUST (OIT)was established in the year 1986 by Janab. P.K. SHABBIR AHAMED SAHIB, as the author and Janab. M.M.GANI SAHIB, Former Vice Chancellor of University of Calicut, as the Chairman. It was registered under societies registration Act 1975 with register No. 1186/6 of 8th October 1986. The main object of the Trust was to establish an independent OMEIAT INSTITUTE for serving the cause of Education offering career guidance, coaching for civil service examinations, scholorships to needy students, developing teacher and institutional excellence etc.
You are aware today in the changed circumtances more numbers of Muslim Students in Tamil Nadu are opting to study a variety of courses such as M.B.B.S., B.E., B.Tech., B.Ed., B.L., B.D.S and Paramedical Courses etc. But education has become costly and unaffordable to the majority of Muslims who are economically weak.
Every year thousands of Muslim Students drop the idea of pursuing Higher / Professional Education due to financial constraint.
To help them out the Organization of Muslim Educational Institutions and Associations of Tamilnadu (OMEIAT) strated a TRUST and has resolved to play a meaningful role in extending financial assistance to the deserving and poor students in time and in full. This apart there are other activities of the Trust such as providing coaching for All India Entrance Examinations to gain admission in prestigious national institutes like IIT, NIT and other institutions, coaching for Civil Services like IAS, IPS etc.
Contact Information
Admin Office Address:

OMEIAT INSTITUTE TRUST
"C.Abdul Hakeem Convention Centre"
The New College Campus
No.147, peters Road
Royapettah, Chennai-600014
Phone No: 9884817561
Email: omeiat@yahoo.in